With over 850 students across all study levels, Wimbledon College of Arts' intimate, supportive community of students and academics shares a passion for creative expression through practical experimentation.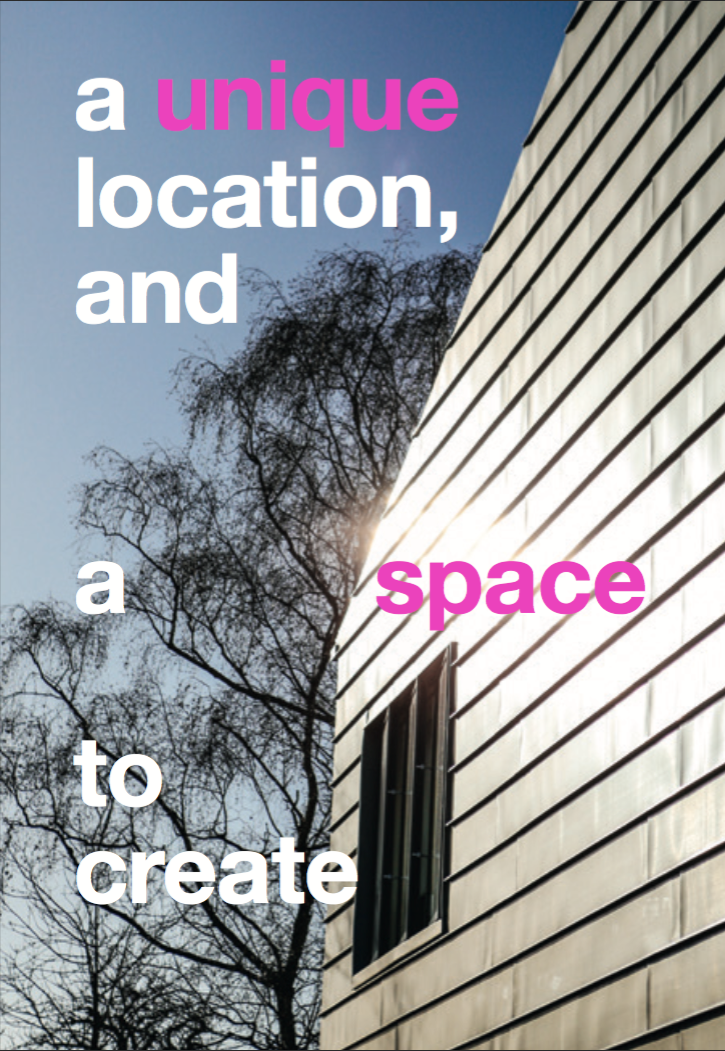 Courses and learning
Wimbledon's undergraduate courses are divided between Fine Art and Theatre & Screen disciplines, and the College is the largest UK centre to offer design and related studies for stage, screen and costume.
If you choose to study Fine Art at undergraduate level, you'll have the opportunity to follow subject-specific pathways in either painting, sculpture or print and time-based media. Wimbledon's selection of Theatre & Screen courses offers a comprehensive programme of theatre, film and television-related design practices.
Wimbledon students are actively encouraged to engage and collaborate with each other through cross-course projects and shared lecture programmes.
See the 'Our courses' section for a full list of pre-degree and undergraduate degree courses offered by Wimbledon.
Careers
Wimbledon is committed to educating its students not only to be innovative artists and designers, but also to develop the skills necessary to use that talent and passion to become sustainable practitioners. Wimbledon students engage in work experience and participate in a range of live projects.
Collaborations include working with Madame Tussauds, the Royal Opera House, Serpentine Gallery, The Queen's Gallery and Windsor Castle.
The College has an international reputation for producing highly creative and technically accomplished professionals. Alumni from Wimbledon have gone on to work as production designers, fine artists, prop makers, costume makers, film technicians, curators, motion graphic designers and teachers. They include Catlin Prize winner Russell Hill, motion graphic designer Robin Reeder, Turner Prize-winning artist Tony Cragg, costume designer Howard Burden(BBC's Dr Who and Red Dwarf), four-time Oscar nominee Sarah Greenwood (production designer for Atonement, Anna Karenina and the Sherlock Holmes feature films) and Olivier-winning set designer Richard Hudson RDI, best known for his work on The Lion King.
Location
Wimbledon's south-west London location is just a 15-minute train journey from the centre of the capital, combining green, open spaces with easy access to the city's thriving art and theatre scenes.
The College has a range of specialist facilities, and each course includes inductions on how to use the equipment, led by resident experts and technicians who also provide regular support in workshops that help turn students' creative ideas into reality.
In 2015 work was completed on a new, award-winning, fully equipped sustainable studio space.
A–Z of facilities and venues
– Audiovisual department featuring animation suite, darkrooms, film and video studio and green screen facilities
– Digital media centre including Macs equipped with the latest software
– Dye workshop including textile screen printing
– Metal workshop with foundry
– Print workshop including intaglio, relief, screen printing and digital print facilities
– Theatre equipped to professional standards with the latest technology, and host to internal and external shows
– Wimbledon College of Arts Library
– Wimbledon Space on-site gallery
– Wood workshops providing facilities from canvas-stretching to set-making.
"My advice to the next generation of students is to acquire as many transferable skills as possible while you're at UAL and to make sure you create a network among your fellow students."
Eli Bo - Pathway Leader BA (Hons) Theatre & Screen: Set Design for Screen 2015 (course to be renamed BA (Hons) Production Arts for Screen, subject to validation), Wimbledon College of Arts
"One of the highlights of my course is the tutors – they genuinely want you to succeed and they help lead you in the right direction."
Annabel Wicker BA (Hons) Fine Art: Print & Time-Based Media, Wimbledon College of Arts
"Wimbledon has a uniquely intimate atmosphere and sense of community. There's a feeling of belonging and involvement that can be missing in larger places."
Benjamin Edmunds BA (Hons) Fine Art: Painting, Wimbledon College of Arts